you're excited about furniture & paint colors.
when i was little i never understood why my parents got so excited over
paint, furniture, a new fridge or anything related to home/yard renovations.
but now...
i do.
and it's probably the only thing in life that makes me feel like a grown up.
now i waste time dreaming about my dream home or
spend hours on the internet looking for furniture & decor ideas.
over the last 3-5 months the husband & i have been in the market for new furniture.
we want to start buying higher quality furniture that we love and aren't
just hand-me-downs from family.
although we're forever grateful for those hand-me-downs!
with that said, we've searched & searched and found a few pieces we agree on!
(
which in my opinion is the hardest part
!)
over the next few months we'll be purchasing a new couch, a new coffee table,
a new bookshelf &
a new rug to tie it all together!
all to go in our new living room with it's newly refinished wood floors & baseboards.
(
coming soon!!!
)
here are some of the items we've picked out:
this couch & matching side chair from
lovesac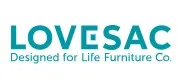 this coffee table from
IKEA
this bookcase from
IKEA
(we currently have this, but in black and the larger size)
i'm still not sure about the rug.
i think we'll have to figure that out once we get all the other pieces in place.
sometimes i'm a bit weary of buying things from IKEA.
some of their stuff isn't the most sturdy,
but i've personally tested out that bookshelf & coffee table.
i think they'll be great.
does painting, new furniture or home/yard renovations
make your heart skip a beat too?!
i sure hope i'm not the only one.